Home Renovation Builders Brisbane & Gold Coast
Our Team Will Transform Your House Into Your Dream Home
We're Bruin Builders, the Brisbane & Gold Coast team committed to executing home renovations that are both stunning and functional.
Your Dream Home Renovation Project
If you are looking to get started on your dream home renovations Brisbane or Gold Coast-wide, you are in just the right place to team up with quality home renovation builders to ensure your building process is seamless. But before we talk about us, let's talk about you!
A home renovation is an exciting and sometimes exhilarating journey, allowing you to transform your space and discover your personal tastes and preferences for your dream home. Whether you are undertaking complete home renovations or focusing on certain aspects like bathroom renovations or home extensions, one there is central — you have the opportunity to celebrate your unique style with a fantastic renovation. A renovation project allows you to turn a simple room into a vibrant and comfortable living space. Our team focuses on luxury home renovations Brisbane-wide, so you can turn your house into a bespoke sanctuary that reflects your style and represents the inhabitants.
A renovation project allows you to do exactly this, infusing each room with warmth, character and, of course, quality workmanship and functionality.
At Bruin Builders, we are as excited about house renovations as you are, watching a dull kitchen be given new life with one of our custom kitchen renovations, watching a bathroom be transformed with stylish finishes, or even importing new fixtures and fittings to give a newfound character to your space is thrilling for our team. We absolutely love perfecting all the details and handing over complete projects knowing that we have done an amazing job and our clients are delighted with the outcome.
Of course, having highly trained home renovation builders, excellent project management, quality workmanship, and premium building materials play a large role in an outstanding complete renovation. But so, too, does working with our customers to ensure we understand your vision, hopes, and dreams for your home renovation.
The Queenslander Renovation Specialists
At Bruin Builders, we're proud of our reputation, particularly on the Gold Coast and in Brisbane's Inner City suburbs, where we've transformed a variety of Queenslander homes with our home renovations. It takes a special understanding of these charming, character-filled homes to bring them into the modern day without compromising on those elements that make them so special, to begin with.
We specialise in both complete home renovations and tasteful house extensions, ensuring the integrity of your home is not lost in the home renovation process. You can trust our team to elevate your unique Queenslander into a functional, modern home with a thoughtful home renovation.
So, no matter what your personal taste, if you are looking for an expert team of home renovation builders to transform your home with a luxury home renovation, Bruin Builders is here to help.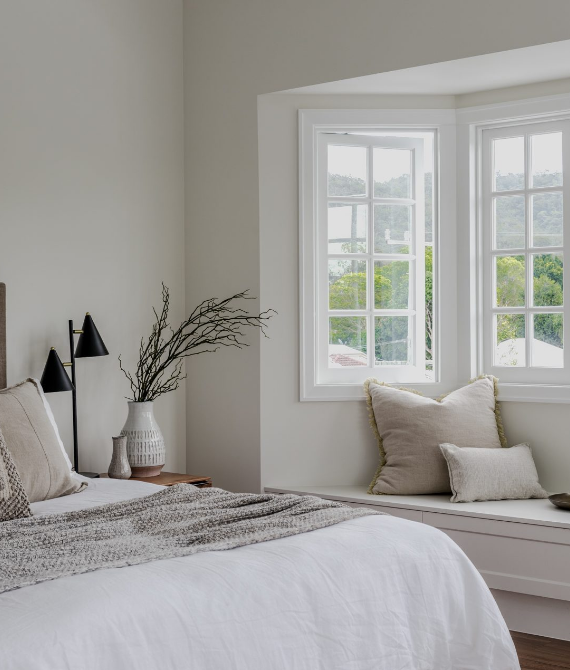 Comprehensive Home Renovations Brisbane
If you are looking to partner with a comprehensive team for home renovations Brisbane and beyond, Bruin Builders are the team you have been searching for.
We're committed to providing you with quality home renovation by partnering with only the best architects and designers across Brisbane and the Gold Coast. We take this further by providing exceptional quality in our workmanship, our materials, and the installation of each fixture and finally, the quality in how we manage your renovation. No matter the style or design expectations of your home renovation, you can expect our signature premium quality.
For all of our home renovations Brisbane-wide, we employ all of our carpenters in-house. This eliminates unfortunate contractor mishaps and provides us with certainty as we outline timeframes and expectations for your home renovation. We'll also organise your other home renovation trades, too, from electrical and plumbing to stonemasons and glaziers; you'll receive a turnkey renovation service. Home renovations can be overwhelming; we work hard to take as much of the stress off your shoulders by providing a truly comprehensive home renovation service.
Why Renovate With Bruin Builders?
Bruin Builders are the perfect choice for home renovations Brisbane-wide and beyond; here's why.
We're specialists in Queenslander home renovations Brisbane wide
Our builders have a love and passion for Queenslanders, and we believe we've perfected the art of renovating these homes. It's all in maintaining their charm while ensuring modern functionality and a timeless aesthetic. Our home renovations ensure the integrity and character of your Queenslander aren't lost.
The best way to ensure quality and a high standard of workmanship for each and every home renovation is to employ and look after our carpenters. Each team member carries the same commitment Bruin Builders was founded on: quality.
Expertly coordinated renovations
We save you time and headaches by managing your home renovation on your behalf. As renovation experts, we coordinate your renovation to success. We'll facilitate all the necessary elements of your renovation.
Handover Quality Assurance
As your build nears completion, we conduct a comprehensive inspection to ensure the highest standards of workmanship and address any potential defects. Your satisfaction and peace of mind are our top priorities as we prepare to hand you the keys to your new home.
The Team To Execute Your Stunning & Functional Dream Home Renovations Brisbane-wide
When we build your home, we have the opportunity to enhance your lifestyle for years to come. We don't take this lightly. We've built a powerful reputation across Brisbane and the Gold Coast for our thoughtful build execution, masterful craftsmanship, and exceptional outcomes.
It's our aim to continue this reputation in the building industry by renovating homes with our customer's wants and needs in mind while maintaining the same premium quality with all home extensions and renovations.
When you want to build a custom home that meets your family's needs and exceeds your expectations, you need Bruin Builders. Backed by 35 years of crafting dream homes across Brisbane and the Gold Coast, our team has the know-how to transform your home right from the foundations up.
Home Renovations Brisbane and Beyond
If you are looking to undergo home renovations Brisbane-wide, from Brisbane city to suburbs like Camp Hill, we have you covered. Our home renovation builders operate all over Brisbane, offering full home renovations or house extensions. As well as offering renovations Brisbane-wide, we also operate on the Gold Coast, bringing stellar home renovations all along the east coast.
As a leading home renovation building company, Bruin prides itself on delivering a
professional renovation experience from start to finish. Our renovation builders in Brisbane and the Gold Coast have finessed the art of home renovations, offering a simple yet comprehensive process to ensure we leave a trail of satisfied customers behind us. Getting started with Bruin Builders is easy with our 6-step premium renovation process:
First up, we invite you to an initial meeting with the Bruin team to discuss your renovations. This usually involves a site inspection, so we can get a real understanding of your home, site and scope, as well as a thorough understanding of your expectations and hopes for your home.
Next, we will work with you and the designer, either someone you have chosen or one of our trusted partners, to give you building quality and cost feedback from the early stages. This helps to keep the project on track and on budget with a complimentary budget estimate. We don't like surprises, and neither do our customers, so we aim to be upfront from the beginning.
Detailed Documentation & Fixed Price Quote
Now that we know the design matches your budget, we move forward to finalise documentation, including final construction plans, engineering, and approvals. Once all this work is completed, we'll then be able to give you a fixed price quote.
This is the exciting step — where you will see your concept drawings coming to life! Our experienced and dedicated team will make the whole renovation experience as stress-free and enjoyable as possible.
Time for the big reveal! Take the keys to your home back and walk through it for the first time. We'll come with you, ensuring we've ticked all the boxes for your renovation and that your new home is everything you dreamed of.
We take pride in our work, which is why we provide guarantees and warranty on not only the structure but the finishes and our workmanship as well, making sure you are confident and comfortable for years to come! We understand the significance of working with our customer's precious living spaces, so ensuring we provide clients with an end product they love is critical.
At Bruin Builders, our mission is to transform your vision of a dream home into a beautiful reality with our comprehensive custom home builds and renovation services.
Ready to embark on the journey of creating your custom home? Contact us today. We'll arrange a consultation to understand your needs and demonstrate how we can make your dream come true. You can call us on (07) 3050 5652, email us at [email protected], or fill out our easy-to-use form, and a member of our team will respond as soon as possible.
"*" indicates required fields