Looking to turn your home layout ideas into a reality? With Brisbane's housing trends leaning more and more towards customised living spaces, custom home designs are a popular and fantastic choice to get your dream home. 
The process starts with designing the house plan, and ends with engaging a leading custom home builder — like our passionate team here at Bruin Builders. 
Here's what to expect when you work with a floor plan designer to design a house plan customised to you. 
Want to design and build a custom home? It starts with your floor plan
When you engage with a custom builder like Bruin Builders, you have the opportunity of having your dream home designed and built for you.  
At Bruin Builders, we know custom homes better than anyone. As leading custom builders for Brisbane and Gold Coast home owners, we've helped many locals build the homes of their dreams. As one of South East Queensland's top-rated custom home builders, we get asked about the process of creating the house floor plan alot. 
So we've created this guide to designing a house floor plan. It'll tell you everything you need to know about what to expect when working with a designer to design your house floor plan. 
Considering designing your own home floor plan? 
Before we cover the process of working with an experienced designer of house floor plans though, let's take a look at the answer to a question that many ask when they're first considering building a new home: can I design my own home floor plan, and how do I design my own home floor plan if so? The answer however is that we don't recommend this. 
When it comes to building a home, the home floor plan and overall home design is crucial to get right; for your own enjoyment of the property to its functionality, to its overall value and appeal to potential buyers and renters, should you decide to sell or lease down the track. We don't recommend you design your own floor plan; it's always advisable to work with a capable designer with significant experience and expertise under their belts. 
However, this isn't to say you can't have an input; when you work with an experienced designer, they'll ask you about your preferences, needs, and any home layout ideas or dreams you had for your floor plan for your new home, and they'll work with you to incorporate what they can, while ensuring that your design is a great one.
Need a recommendation for a great home floor plan designer?
If you're ready to build your dream home, Bruin Builders are here to make it happen. Once you've got your floor plan design finalised, we can build your dream home for you. We're known for building elegant dream homes that are expertly crafted, with expert project management, an amazing customer experience and a seamless, stress-free build. 
If you're still sorting out the design process and need to engage a specialised home designer to design your house floor plan, we have some recommended designers that we can get you in contact with. Reach out to us and we'll put you in contact with some great designers who can work with you to design a house plan that you'll love, and then our team can take it from there to turn that plan into reality with our quality custom build service. 
Just get in touch with us today and we'll get you in touch with professional designers that we rate highly.
Now that we've covered off on those important points, let's take a look at what to expect when you start working with a designer to design a house floor plan.
The house plan process: Here's what home designers consider when designing a house floor plan
When you design and build a custom home, there are so many benefits — the biggest benefit is that you can get the home that is exactly what you want. 
Working with an experienced floor plan designer to put your home layout ideas and dreams into a plan that is going to look fantastic, work functionally and also be appealing to others (maintaining your property value) is a fun and exciting process. 
Here is what the process of working with a designer to create a house floor plan looks like.
1. A designer will sit down with you to discuss your needs, wants and dreams for your floor plan design  
The process of designing a new home floor plan is not just about aesthetics. A good floor plan is about functionality, too.
So it's not surprising that the first step a custom home floor plan designer will take is to sit down with you to discuss and understand your needs.
Your designer will sit down with you to discuss what you want from your floor plan.
They'll ask you questions like:
How many bedrooms and bathrooms do you want in your floor plan?
Do you need an office?
What about a media room, or playroom?
Do you want your floor plan to cater to evolving family needs in the future?
Will accessibility features be something you want in your floor plan for now or down the track (ease of access into and out of the property)?
What practical elements within your floor plan will make your day-to-day flow nicely?
What do you like, love and hate about your existing floor plan, for the property you're living in currently?
What are your key goals?
Do you have any home layout ideas or dreams you'd like your designer to try to incorporate into their design (if it works with the overall plan)?
Once you've defined your key requirements and goals for the floor plan, your designer will be able to start creating the design of your new custom house floor plan.  
They'll start with the basics
Your designer will most likely start with a rough sketch. If the first thing you see looks like some rough shapes, don't fret — even master floor plan designers and interior designers will usually start with a very simple sketch, to confirm the 'bigger picture' plan before going on to plan out the finer details. 
This is so that everything starts out on the right track and the correct framework is set. 
For the initial house plan framework, the designer will place the main rooms in your home floor plan layout, according to their function.
Typically, living and dining areas face the front, while private zones like bedrooms are at the rear.
Drawing from our expertise as custom home builders, we've observed that a functional flow is vital for homeowners in Brisbane, and we're confident that if you choose a capable designer, they'll create a house floor plan design that is functional as well as aesthetic. 
You'll see when you get the initial rough sketch framework from your floor plan designer, that each space is thoughtfully placed
After this part is locked in and everyone is happy with the framework for the placement of the basics, you'll be surprised just how easily the rest of the floor plan comes together. Your designer will work their magic even more from here.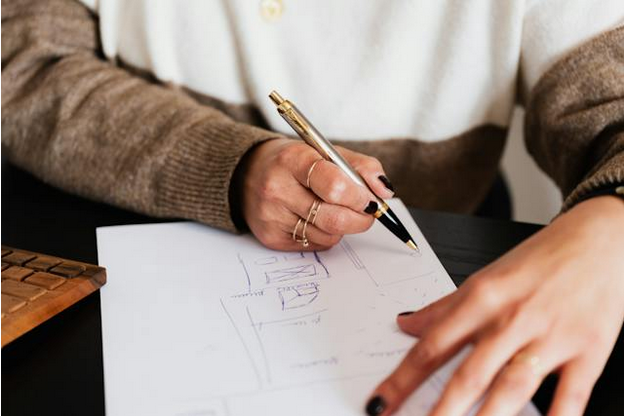 Honing flow and functionality
Ever entered a house and felt a natural flow from one room to the next? That's smart floor planning.
Our top tips as builders? When you're reviewing the plan that your designer presents you, be sure to check whether there is easy access between the kitchen, bathroom, and bedrooms.
We know from experience that open living spaces seamlessly connected to alfresco dining areas are a hit amongst Brisbane families. Brisbane trends certainly show an inclination towards open-plan living, but that should be balanced with your privacy needs — so be sure to ask your floor plan designer to work this into your design as well, if they haven't already.
If your floor plan doesn't seem to have the flow you'd love, or if you're unsure on anything, just open a discussion with your floor plan designer, and let them know your exact concerns and thoughts. In most cases, they'll be happy to talk you through it, and adapt the floor plan to make sure that it's a great design, and a great fit for you.
Which brings us to our next point: 
5. Feedback – something that most great home designers will be open to throughout the process
The great thing about custom designed homes is that you have a lot of input on the final design. While it's best to get the expertise of an experienced designer, you can certainly let them know any thoughts, concerns, and preferences along the way. With more information on what you love, your designer will be able to create you your dream home.
Sometimes it's easier to get the perfect design if you show your floor plan designer some examples of the types of home designs you love the most. 
If you're looking for inspiration and ideas to show your floor plan designer, at Bruin Builders we've got an extensive project portfolio of our custom-built open living spaces that you can check out. (Check it out here). We're more than happy for you to show your home floor plan designer any of our work. 
4. Your designer will consider natural light and ventilation:
Brisbane's mostly sunny weather calls for homes filled with natural light. So you'll likely find that your floor plan positions your main living areas to face north, if possible. If your designer hasn't done this, or you're not sure what direction your main living areas are facing, just ask them.
Of course, with that glorious sunshine comes the heat, so it's important not to forget ventilation. 
This is where doors and windows come in.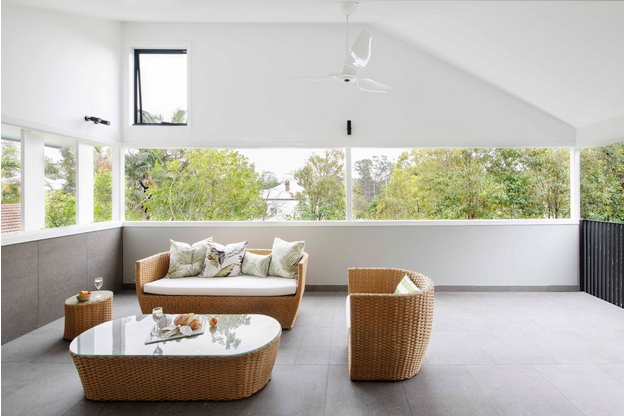 5. Door and window placements are considered
The next stage of designing a home floor plan is adding the doors, windows, and dimensions to the floor plan. 
When your designer does this step, they'll adjust your home layout design in a way that will allow room for those doors, and allow enough space to remain for when you add furniture to your home.
Your designer will also take into account important considerations like which direction the doors will open, and whether they have enough space to do so. 
This sounds simple, but is easily overlooked by those inexperienced in designing home floor plans; which is why it's highly recommended to work with a professional floor plan designer for your new house project.
Ideally, the window placements within your floor plan will maximise those beautiful Brisbane breezes. An experienced home floor plan designer in Brisbane will likely have already considered this in your floor plan, but if not, just ask them how that's being worked in. 
5. Personal touches and finishes
Once the functional floor plan is laid out, it's all about the finishes and personal touches. This is when your home designer will talk about all your options for the finer details.
Maybe you would love elegant timber floorings, or luxury bathroom fittings? When you choose a leading custom home builder like Bruin Builders, your home designer will have a variety of options within the scope of capability of the builder that they will present to you at this stage. It's the smaller things that go a long way to transform your ideal house plan into your dream home.
6. The build process
This is where we come in at Bruin Builders! 
When your home plans are finalised with your designer, you can start the build process. Provided you've got your land sorted and your building permits, your custom home builder can take it from there. 
At Bruin Builders, we take care of the entire build process for you, making it easy, stress-free and as it should be — exciting! We have seamless project management and excellent customer service and will coordinate everything for you. From plumbers and electricians to painters, we'll sort everything out for you in regards to the custom home build process, and we'll ensure quality. 
When you've got your house floor plan design ready to progress to the exciting build stage, get in touch with our experienced dream home builders. We're the custom home builders in Brisbane and the Gold Coast that you can truly count on to turn your dream home plans into reality.
Final thoughts: why it's important to choose an experienced floor plan designer
As you're likely more familiar with after reading through the process of designing your home floor plan, there are a lot of considerations that need to be made when creating a home floor plan. And these are just the basics, there are so many things that need to be taken into account, like building regulations, fire codes, housing trends and sellability and so much more. 
For some, when they first think of the process of designing a house plan, they may be tempted to figure out how to design their own home floor plan, but it's always far better to work with a professional designer. A home is a big investment, and the house plan is the framework that guides the entire home build, aesthetic and functionality. While you can certainly come up with some home layout ideas and wishes, giving these to a professional to work into a professional design that also uses their expertise and experience will ensure that your home layout is a great one.
Choosing a professional home floor plan designer to design your house floor plan is important because:
They'll be able to design effectively, creating you a great layout that won't cost more than it needs to.
An experienced designer will create a functional, yet aesthetic, design.
A professional can help you create a realistic budget, and stick to it — they'll help you prioritise your home layout ideas into the best home plan design that won't blow your budget.
They'll help you perfect your ideas, needs, wants, and dreams and turn it into something truly special. 
They'll introduce elements that inexperienced designers (like a DIY job) would overlook. 
Great floor plan designers know the capabilities of Brisbane's best custom home builders, like Bruin Builders, and can create your dream home with those possibilities in mind.
For when your floor plan is ready to go: we're here — Brisbane's custom home build specialists 
If you're looking for inspiration to show your home layout designer, check out some of our recent work in our portfolio of projects. 
If you love anything you see, you know who can build it to perfection, and that's half of the journey.
Our history of building beautiful, functional Gold Coast and Brisbane homes and our hands-on approach from pre-construction to finishing is unmatched.
So, when you're ready to turn your floor plan into a reality, think of Bruin Builders. 
Book your home build consultation with us today to get started.