Are you thinking about building or renovating? If so, what areas are you putting your energy into?
Often when designing our new home, we tend to focus on the interior. This is natural because after all, it's where we tend to spend most of our time, and we want it to meet our needs. But the exterior of the house is equally important because it is an extension of what lies within. It reflects your interior design and style, and fulfils some practical requirements as well. But beyond this, your home's facade is very much about creating a 'wow!' factor and making a lasting impression.
A well-designed facade creates an unforgettable first impression. More importantly, as the homeowner, you want it to feel welcoming to you again and again.
So, what do you have to consider when designing a fabulous facade for your home?
Top tips for successful facade design
Designing your home's facade is a little bit like preparing the foundations for the house itself. Some basic preparation is key. Discuss your ideas with your architect and builder at the design stage. This way you'll create a design that is appealing and functional, and one that keeps the local council happy too. Here are some important things to think about.
Define your style and function
Defining how you want to use the area at the front of the house helps set the tone for the facade's look. Whether you're aiming for simplicity or prefer striking, the possibilities are endless. But whatever you decide should be in sync with the character of the interior design.
Location and site
Whether building or renovating, be mindful of neighbourhood streetscape requirements. Developers in new estates may also have guidelines about how they want their estates to look. These things can impact your facade's design, colour scheme or types of materials that can be used.
On the other hand, you may have decided to build in bushland, at the beach or on a hill. The prevailing weather or the land's outlook are other factors that will influence your design. The desire for privacy and security are also important.
With over 35 years of industry experience, Bruin Builders is conversant with every aspect of planning and design. We take the stress out of complex building requirements.
Integration with your floor plan
The interior and exterior of your house are not mutually exclusive. Certain design styles have distinctive characteristics that may affect structural requirements. This in turn may also impact facade design. Remember the floorplan is 2D but your house is 3D. So, what appears to work on one level may not allow you to achieve what you hoped for on another. Consultation with an experienced designer and builder ensures your interior and exterior design are in perfect harmony.
Functionality and maintenance
Cleaning, climate, and ease of maintenance are all things to think about at the design stage. At the end of the day, your house is a place that provides you with shelter from the elements. As time passes these elements can affect paintwork and exterior surfaces. This means your home's exterior will need ongoing attention to keep it sparkling and structurally sound for years to come. A house facade that is functional as well as outstanding is an advantage.
Keep it interesting
Create a bespoke design. Use a fusion of repurposed and modern building products, or a contemporary design. A mix of colour, materials, and contrasting finishes will make your facade unique and appealing while providing depth and character.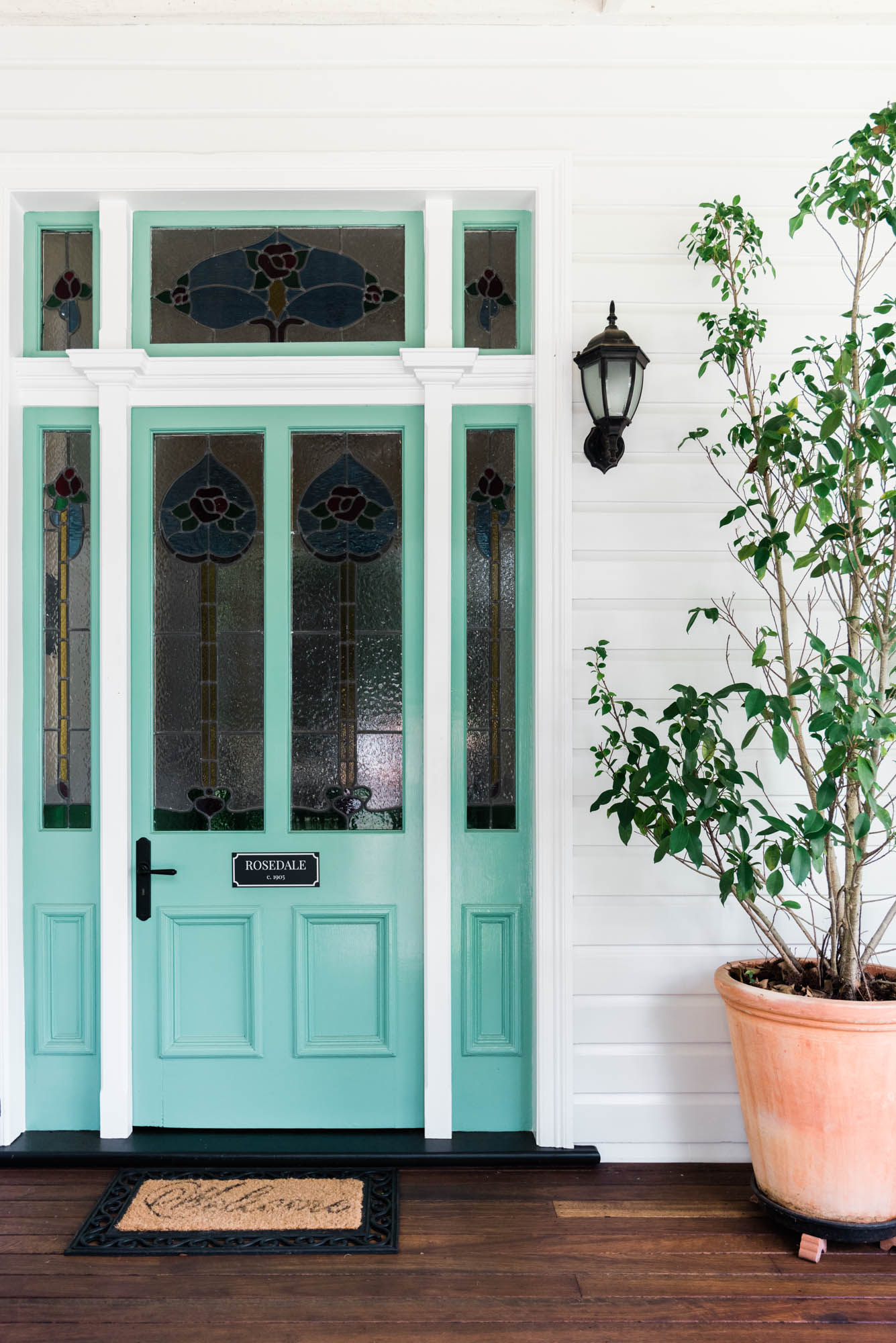 Contemporary facade design features
Now that the business part of facade design is out of the way, let's look at some ideas for inspiration. 
We are fortunate to be living in an era where technology is constantly evolving, resulting in innovative building materials. The spin-off for you is a new level of functionality and aesthetic appeal in facade design.
Let's explore what's still in vogue and what's trending in home facade ideas.
The Queenslander – an enduring classic
What's the first thing that pops into your mind when you think about a classic Australian facade? For many of us it is the Queenslander. Timber, a breezy verandah, staircases and fretwork make up the quintessential Queenslander architecture.
This iconic style is still a hot commodity in Brisbane and the renovation of these historical structures remains popular. Brighter colours or darker industrial ones can be applied to add modern contrasts and accents to the traditional style.
Bruin Builders are the Queenslander renovation specialists. Discuss the possibilities with us today.
Hamptons – casual sophistication
Like Queenslanders, Hamptons style houses have an enduring style. With its distinctive gabled roof lines and welcoming porticos, this traditional American style continues to grow in popularity in Australia.
Natural materials are the basis of the Hamptons design. This gives you a range of looks and combination of materials that can be used for the portico columns and entry. Perhaps you might like a contemporary touch by using contrasting, out-of-the box colours. 
Building custom Hamptons style homes is Bruin Builders' specialty. Call us today to book a consultation.
Heritage style – elegance and symmetry
If symmetry and order speak to your personality, you can't go past the Victorian Georgian heritage style. Popular in Australia from around the mid to late 1800's, its simple elegance is still popular today.
Facades in this design style are characterised by a sense of balance. Frame the front door with glass panels and install generous well-proportioned windows to make a bold statement. Make your home ageless with classic finishes such as sandstone or rendered brick.
Contemporary – less is more
Contemporary house designs are about creating a slick, finessed look. A minimalistic facade will speak volumes about your interior design. Use understated colours and sheer lines. Limit how many different materials you use but select ones that have multiple uses. Timber, stone and concrete are all multi-functional materials that you can also use in other outdoor areas including furniture.
Industrial chic
If you love that gritty, raw, textured feel, then this look is for you. Using exposed or recycled bricks, concrete or even steel lets you achieve that modern look with a lived-in feel. It's also a great way to give a small facade the illusion of being bigger in scale.
Show your colours
If the neutral hues of many modern home exteriors leave you thinking that new houses have no character, maybe the fix is as simple as a splash of colour.
The colour palate of your facade will communicate your spirit and create tasteful aesthetics. Think about how hues interact with light and building materials. Create interesting contrasts with different colours and finishes. Or you can simply add 'pop' to some of the architectural details with a distinctive hue.
Colour is also functional. Lighter tones tend to absorb less radiant heat making your home cooler and more energy efficient.
Go green
'Green' facades are becoming increasingly popular, particularly where space for gardens is limited. Brisbane's climate lends itself to green facades that reflect our outdoor lifestyle. Greenery is visually appealing and creates an organic look. Incorporated into your home's facade, it gives the sense of a seamless transition from the outdoors into privacy.
Traditional green facades use climbing plants that are planted in the garden bed and cling to the wall structure of the house. If you are aiming for this look, discuss this with your builder early in the design stage. Things to consider include what the facade will be constructed from and the likely level of sun exposure.
Alternatively, you can create a vertical garden with a facade bound system. This approach uses containers such as planter boxes fixed to the wall or on a supporting frame. Or you can erect a structure that is separate from the wall and train plants along it.
Greenery on a facade makes an attractive feature when combined with wood or other natural materials.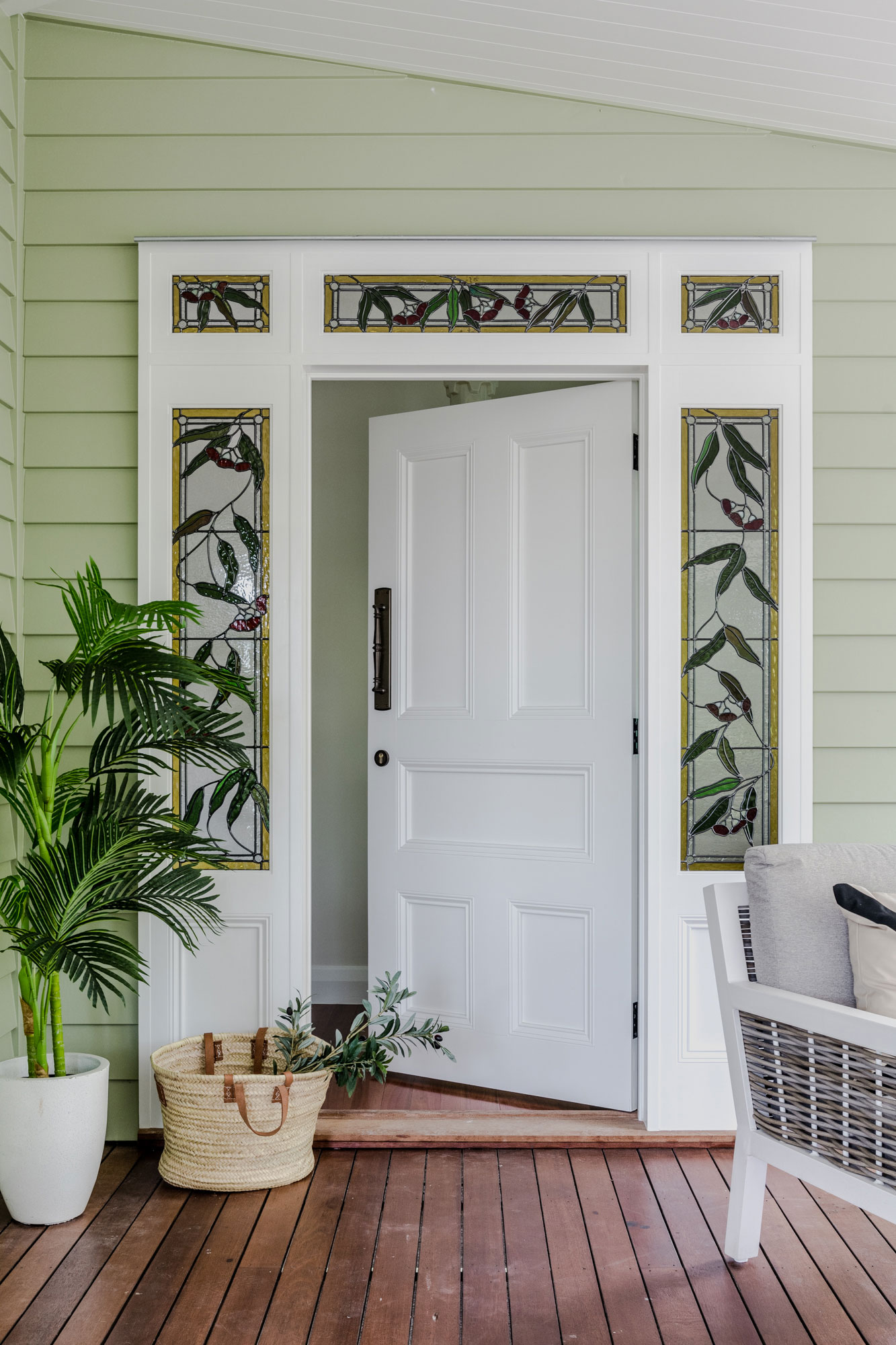 Giving you the attention you deserve
These ideas are just a few of many possibilities. There are a multitude of other home facade ideas that can be explored. The size, layout and contours of your property all play a part in influencing the final design.
We love to create homes that reflect the personality of their owners. Whether this means a house with a traditional look or one that says 'environmentally conscious', we will always work with you to make your dream a reality. And of course, we understand better than most that house facades are an important part of that.
We pride ourselves in being able to keep abreast of emerging building solutions and design ideas. This means we can provide you with practical advice that will help your concept become a reality. Get in touch with us today.