The style of homes known as 'Queenslanders' are distinct and unique, and flooding, monsoonal rains, and the states' hot northern summers have all influenced the design of this iconic architecture. The open friendliness of these houses reflect a lifestyle that is a unique expression of the way people have adapted themselves to an environment vastly different from historic European experiences.
The evolution of the enchanting 'Queenslander home' takes us back to the simple timber huts crafted during the state's initial settlement period. The charm that these houses exude lies not just in their architectural grandeur, but also in their intelligent design. Their beginnings in the 1930s saw them mature into multi-gabled bungalows and later, following the Second World War, they took on more contemporary forms, adopting the mantle of 'Environmentally Sustainable Timber Houses'. This remarkable transition was not just a nod to changing aesthetic preferences but also a testament to our growing awareness of sustainability.
Our 'Queenslander homes' are sterling examples of vernacular architecture – an indigenous style that morphs and adapts over time. It's a living testament to the practicality of our European forebears, who made this foreign, subtropical climate their home in the mid-19th century. The breezy verandahs, the adaptability of spaces to accommodate a cosy rumpus room or an inviting breakfast bar, the grandeur of the French doors, and the effective use of sloping blocks, all make a Queenslander home a dream home. This fusion of charm, character, and functionality sets our Queenslander homes apart.
The classic Queenslander is primarily defined by architecture that revolves around climate consideration. There are many types of Queenslanders, but they all share distinct characteristics, including:
The typical floor plan generally comprises four or six rooms, which branch off a centrally located corridor. Cross-ventilation is encouraged by the alignment of windows and doors to allow for an uninterrupted air flow, and other common features include high ceilings and wooden floors.
British colonial traditions had some influence on the adoption of extensive deep shading external verandahs, which provide a refuge from the state's rain deluges and extreme summer sun. They provide a unique multipurpose space, often wrap around the house, and function as 'breeze scoops' to direct natural ventilation throughout the house.
Roofs are a large and visible external presence and traditionally steeply pitched. They are constructed of various materials including tiles and slate, but most often sheeted with corrugated iron, which is durable, lightweight, fire-resistant, and allows for high cooling ceilings below.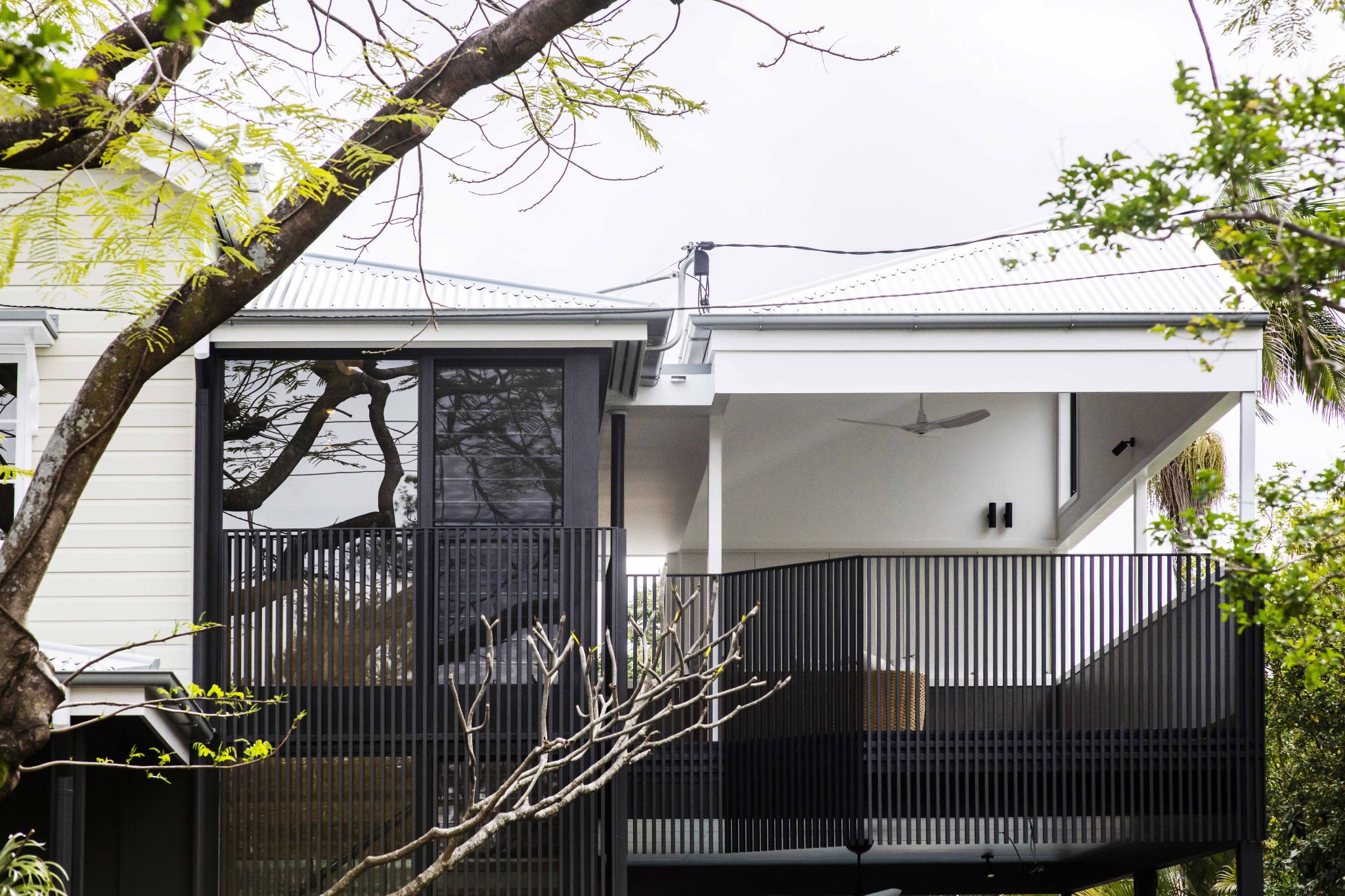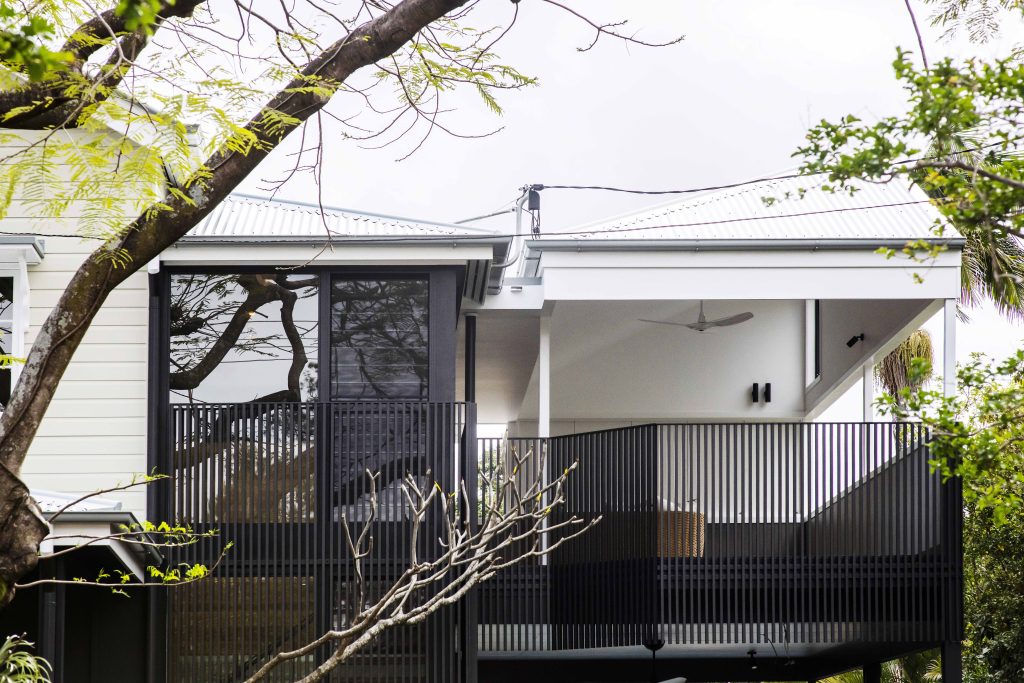 Double hung doors and windows typically open to outside verandahs, and line up internally. They encourage cooling breezes and a movement of air through the house, and also serve as protection against interior mould growth synonymous with humid climates.
Queenslander facades without verandahs typically have limited roof overhangs. Instead, timber and sheet metal window hoods divert rain, provide shading, and release trapped rising hot air to further cool the inside of these homes.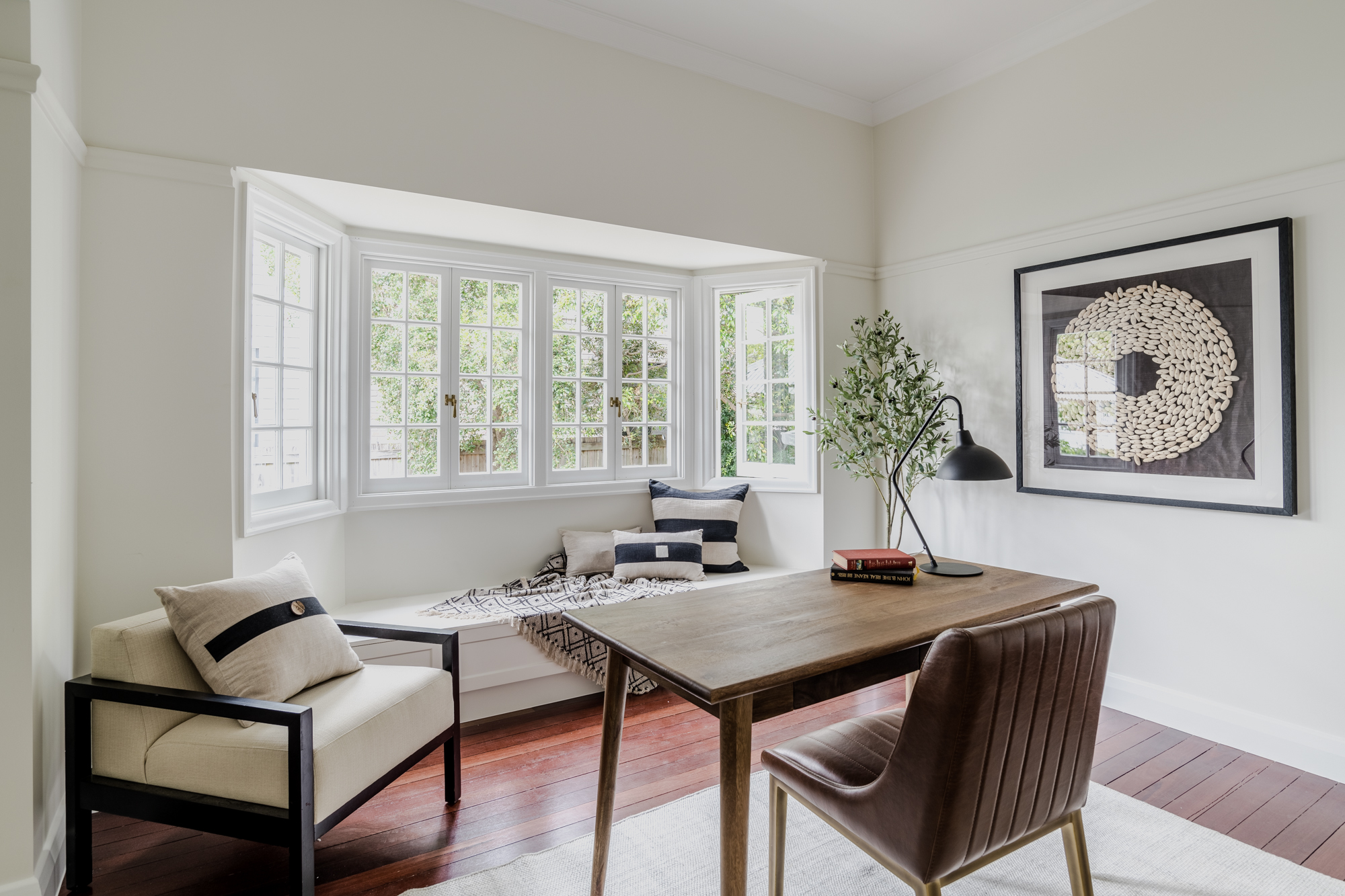 Iconic Queenslanders have timber-framed structures that are elevated above the ground on stumps. A raised house allows high-level breezes to be captured inside, and a cool pool of air to be trapped beneath the floor to help cool it from below. They also offer protection from termites and other pests, and allow for the natural flow of water in the event of excessive rain.
The space below the floor is often high enough for a garage, storage or as an extra living area. Being constructed on stumps also means Queenslanders are highly adaptable in terms of lowering, raising, or reorientation of the house's architecture.
The unique decorative features of a Queenslander are both functional and aesthetically pleasing. They include gables and column brackets, timber or cast iron balustrades, and louvres, timber screens, battens, and fretwork.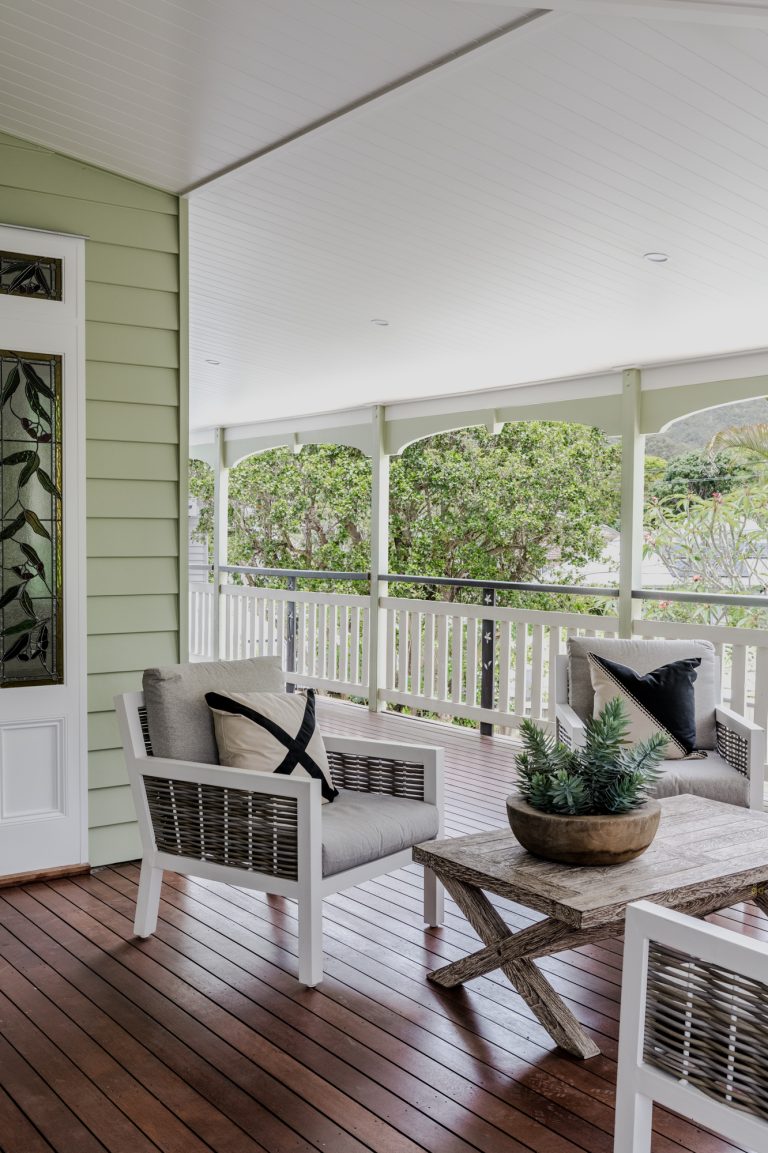 The majority of Queenslanders are made from timber, a material that is both abundant and cost-effective in Queensland. Timber also has excellent thermal properties that help to keep the home cool in summer and warm in winter. The primary structural element is timber framing, while walls, floors, and roofs are typically clad in timber boards or sheet materials.
Many Queenslanders feature gardens and landscaping that are an integral part of the home's design and function. The gardens often include large shade trees and a variety of native plants, offering additional cooling and shading for the house. The layout of the garden often complements the architecture, providing a seamless transition between indoor and outdoor spaces.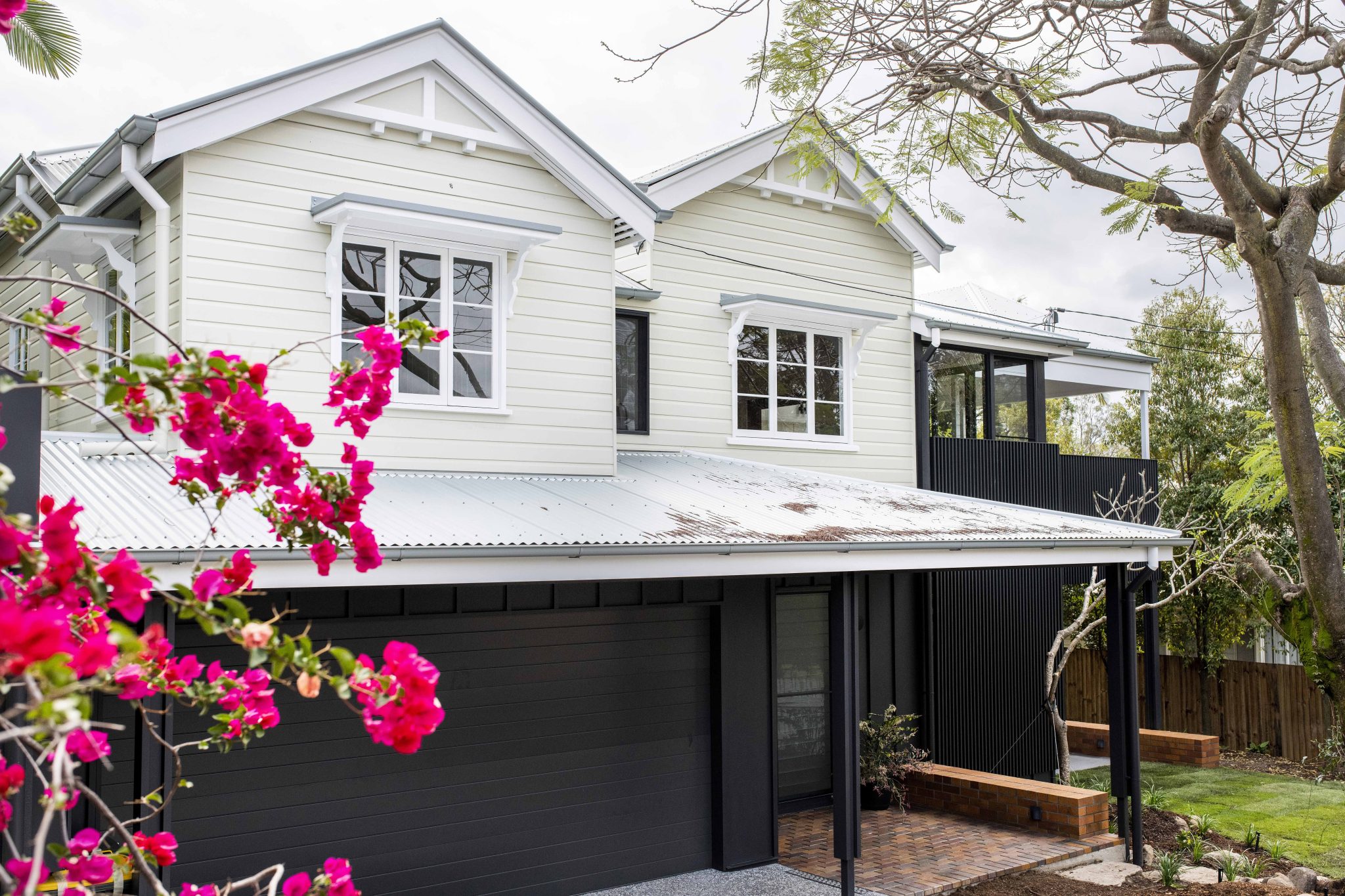 Another characteristic of Queenslanders is their layout adaptability. The simple central corridor layout allows for easy modification and expansion as families grow or needs change. In many cases, rooms can be added or subtracted with relative ease, and the generous verandah spaces can be enclosed to create additional living areas. This adaptability is a key factor in the enduring popularity of the style.
ADAPTING QUEENSLANDERS TO MODERN LIVING
Queenslander homes, known for their unique architectural charm, can be seamlessly adapted to contemporary needs while preserving their original character. This process is as much about thoughtful updates as it is about valuing what has come before. Take, for example, incorporating energy-efficient appliances. We select pieces that not only reduce energy consumption but also blend aesthetically with the home's classic elements. Similarly, decor updates are made with a nod to the present day, yet always paying homage to the historical charisma intrinsic to these homes.
The adaptability of Queenslanders allows for considerable expansion of living spaces. It's about more than just adding square footage — it's about maximising functionality. We ensure that every additional private space or expanded area retains the original character of the house, maintaining a harmonious balance between old and new. Our custom designs respect the unique architecture while transforming the home into a comfortable, modern living space.
NAVIGATING HERITAGE RESTRICTIONS
Navigating the heritage restrictions in Queensland can be akin to walking a tightrope, balancing the preservation of historical appeal with modern standards. But fear not, as local builders well-versed in the laws and nuances of the process, we here at Bruin Builders are adept at steering our clients through these regulatory landscapes.
Our primary focus is always on safeguarding the iconic charm of Queenslanders. We adhere strictly to the heritage guidelines and work closely with our clients to ensure any modifications align with these rules. But we also know that living standards have evolved over time, and people desire certain modern comforts. By interpreting and working within the heritage restrictions, we are able to introduce these contemporary features in a way that respects the spirit of the Queenslander, making the journey of building a Queenslander or renovating an existing one, both rewarding and fuss-free.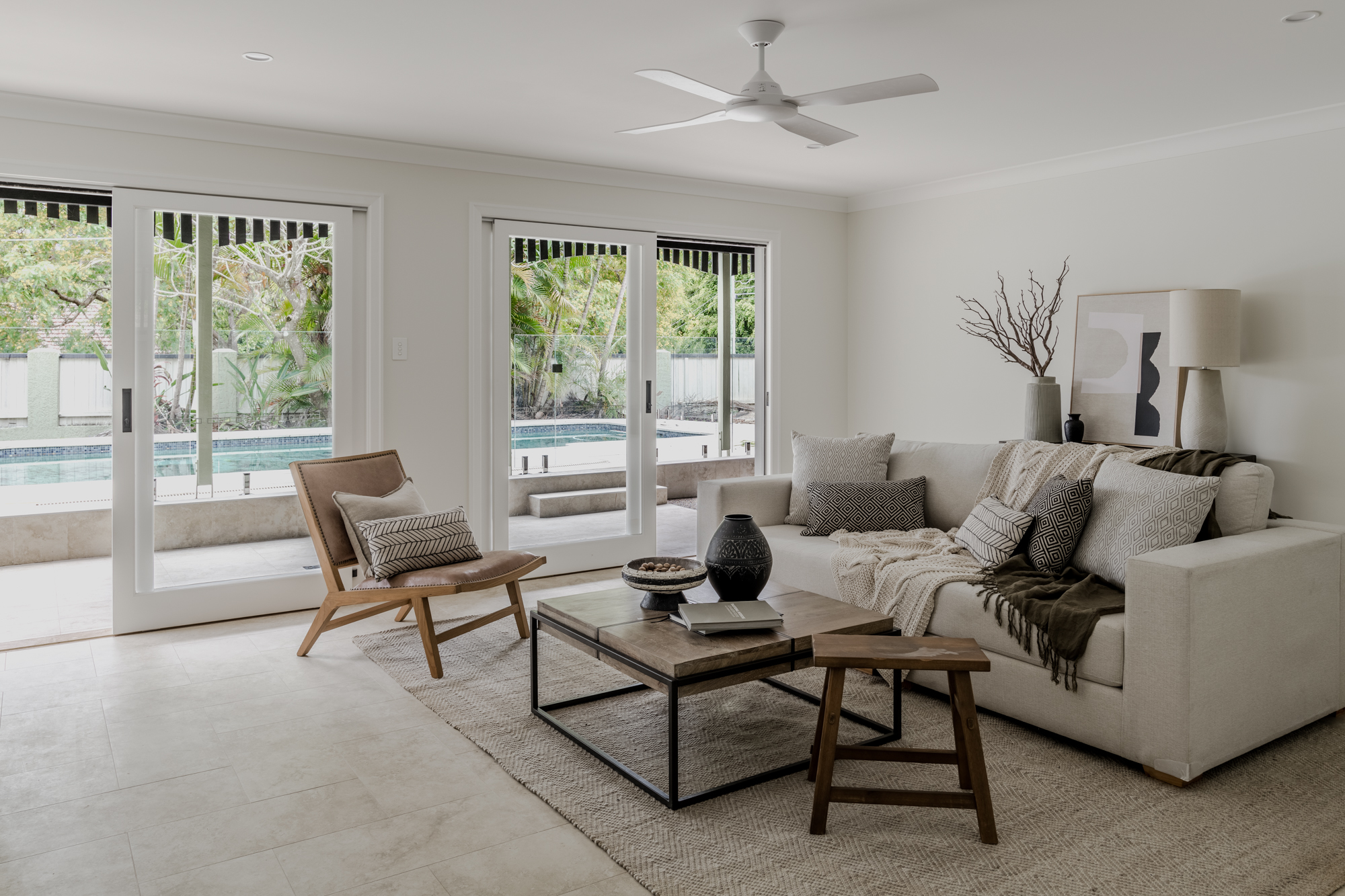 EMBRACING THE QUEENSLANDERS
Modern Australian architecture is often marked by rapid progress, leading many potential homeowners to opt for pre-made house and land packages. Yet, rising concerns about high-energy consumption have sparked a resurgence of sustainable, energy-efficient designs.
For those residing in the tropical and subtropical regions of Queensland, this translates into a reinvigorated appreciation for the architectural traditions of Queenslander home styles. They offer a perfect blend of historical aesthetics and modern lifestyle demands, making them a popular choice among today's homeowners.
BUILDING YOUR DREAM QUEENSLANDER WITH BRUIN BUILDERS
The process of owning a Queenslander with Bruin Builders starts with an understanding of the unique characteristics of these timeless homes and their adaptability to contemporary lifestyles. Our initial design consultation seamlessly integrates traditional and modern elements, creating a custom design that aligns with the homeowners' (that's you!) preferences. As committed Queenslander home builders, we appreciate the importance of careful planning to ensure the project stays within your budget while realising your dream of building or renovating a Queenslander home.
EFFICIENCY, EXPERTISE, AND CONSTRUCTION
The actual construction journey with our team promises efficiency and expertise. Our in-house carpentry team ensures a timely completion, and our pre-construction process adheres strictly to the agreed budget and timeline. This efficiency minimises delivery costs and makes building a Queenslander a rewarding experience, the finished product of which you will adore.
WE TAILOR QUEENSLANDERS TO YOUR NEEDS
At Bruin Builders, we believe in making each Queenslander a unique home. We offer customisation options, such as adding French doors for a breezy verandah or a custom breakfast bar in the kitchen, ensuring your Queenslander is tailored to your lifestyle.
WE'RE HERE TO MAKE YOUR DREAM A REALITY
The path to owning a Queenslander home, whether through building or renovating, can be complex. With our expertise and passion, we're here to simplify this journey. As your trusted local builder, we're committed to bringing your vision to life while respecting the rich history of our wonderful Queensland architecture.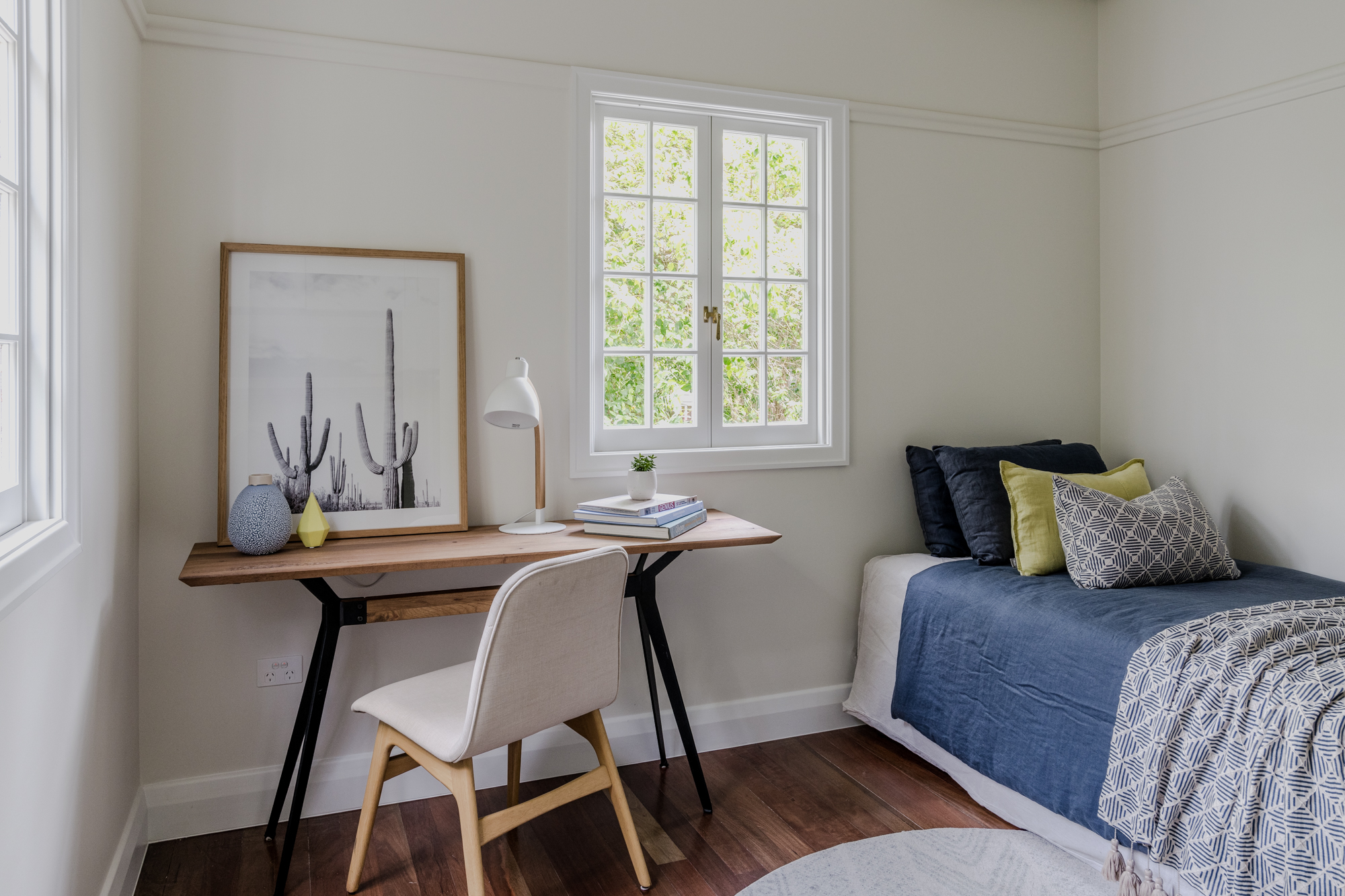 Keen to have an iconic Queenslander restored to its former beauty by a quality builder in Brisbane? As a family-owned business with over 25 years' experience, building is in our blood. Contact us or phone (07) 3050 5652.